Information for Applicants
Democrats for Shaler Announces Scholarships for Shaler Area School District High School Seniors
Two $1,000 scholarships will be awarded at the end of this academic year by Democrats for Shaler. One award will be for a college bound student and one for a vocational student. The group recognizes that college is not the only path to success and students who enter an apprenticeship, industry training program or trade school, should be afforded the same opportunities as college students. In the event the organization does not have one student from each group, scholarships may be awarded to 2 college bound students or 2 vocational students. Students interested in applying for the Democrats for Shaler scholarship must do so by the date below.
Apply Now
Application Deadline: March 31, 2023
Awards: Winners to be notified via email or phone. Scholarships to be awarded at Senior Awards Night in May.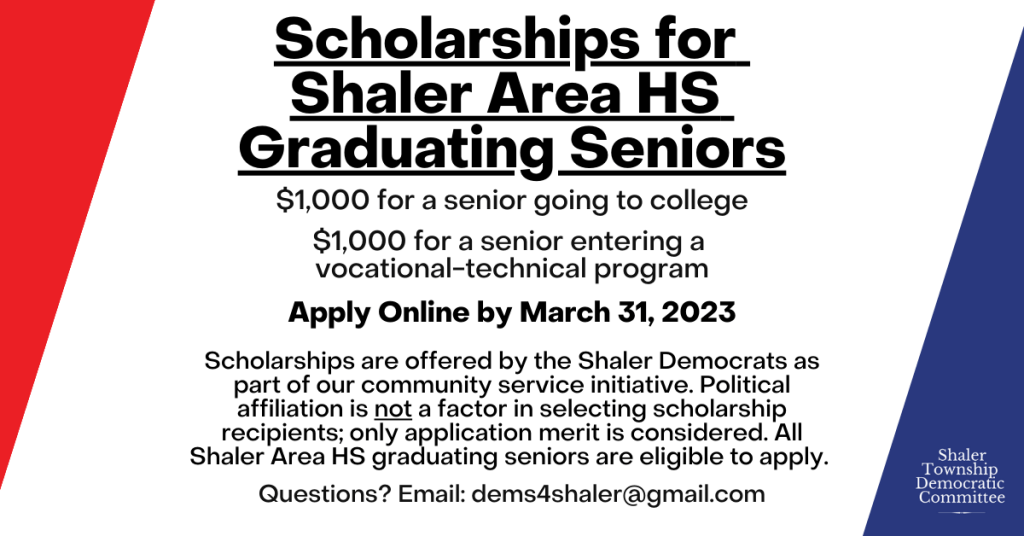 To apply, click here: https://forms.gle/voZA8wwaNKVGP4LPA